The fact that email marketing helps grow your business and increases your interactions with your subscribers is no surprise. Sending exclusively plain text emails is a surefire way to miss the reader's eye and leave your email to rust unnoticed in recipients' inboxes. With an email builder, however, you will be able to create cool and responsive templates easily.
In this post, we've gathered eight powerful yet intuitive email template builders, so you can choose the one that breathes comfort into your email creation process.
Why use an email template builder?
If you are a confident HTML coder, you can build up an email template from scratch on your own. Alternatively, you can rely on a drag and drop email builder to create an email template using WYSIWYG (What You See Is What You Get) editors.
Email template builders provide the following benefits:
They're fast and convenient. You have a set of pre-made templates and designs that you can customize to your needs by adding or removing buttons, blocks with images, text, and using colors that represent your brand.
They're online tools. You don't need to install any software because the builder autosaves your sessions, allows you to come back to your templates, and re-use or edit them at any time.
They're editable. You can use pre-made blocks and templates, and modify the code or parameters to meet your taste and needs.
If you still think that drag and drop email builders are no good and won't meet your expectations, take a look at the list of the tools we've gathered to check out their functionality.

Criteria for choosing the best email template builder
At first sight, all drag and drop email builders feel very similar. However, certain features and specs can make a big difference — so we want you to know what to look for.
Double-check whether the email software of your choice provides you with:
Clear onboarding. The more intuitive it is, the faster you can jump to building your email campaign, especially in cases when you need it done yesterday.
A rich choice of templates. The quantity matters, but it's even more important to have diverse collections of templates for any occasion.
HTML editor. Sooner or later, you may need to import your own HTML elements or be able to build email templates from scratch.
Various supported file formats. Text and pictures aren't always enough — engaging content such as GIFs and videos have a greater chance to capture recipients' attention.
Additional content libraries. This is an optional but extremely beneficial feature. If the email template builder of your choice gives you access to a stock library, it'll allow you to design templates even faster.
Compatibility and seamless exports. A great email template builder is never a stand-alone solution — it should easily become an integral part of your existing marketing toolkit.
Reachable support. An avoidable mistake or some unexpected system downtime may cost you dozens of customers. Make sure the support team is always within your reach and ready to act quickly.
Flexible pricing plans. You want to be sure you're only paying for the features you really need.
Understanding these main criteria will help you make an informed decision.
Our list of the best email template builders
We've listed the best drag and drop email editors that are both cost-effective and easy to use.
SendPulse
SendPulse offers a user-friendly drag and drop email builder to create and customize high-converting email templates. It gives you the necessary tools for making your own templates from scratch as well. Likewise, importing your own HTML code won't be a problem.
This email template builder has over 100 pre-made templates and components. It also enables you to add and save elements you want to use in your future templates. To make your emails more effective, add CTA and payments buttons, enrich them with GIFs and videos, and use smart personalization — all of that can be done in the SendPulse visual builder, completely code-free.
More importantly, SendPulse allows you to automate, test, send, and analyze your campaigns with ease. You can do it right after you finish editing — there is no need to export your templates elsewhere. Also, you can reach the support team 24/7 if you run into problems.
Its interface is pretty straightforward:
Here is our secret sauce — when you sign up and start using the email template builder, you also get access to other SendPulse marketing products and features such as our:
subscription form builder;
email automation and analytics tools;
CRM;
chatbot builder;
landing page builder;
online course creator;
bulk SMS service;
web push notifications.
The great news is that you can assess all of these tools from one place, with no messiness, overspending, or 10+ open tabs in your browser.
We created our blog update email using this email template builder — here's how it looks:

Pricing: free if you send emails to fewer than 500 subscribers; more advanced plans cost $6–10 a month. You can save 20% by paying annually. It's also possible to pay just for the exact quantity of emails you want to send.
You can
create a free account
now to try SendPulse for as long as you want. No credit card required. Upgrade when or if you need it.
Stripo
Stripo offers an open library with 900+ pre-designed email templates, advanced building blocks for showcasing your products, and an embedded photo editor. You can use pre-built HTML & CSS modules or create and save your own. In addition, you can also save your brand assets and access them with one click.
There will be a Stripo logo on every template you create, but you can remove it even if you are a free plan user. With Stripo, you are able to export your template to Gmail, Outlook, and different ESPs or download it in PDF, HTML, or PNG format. The service even enables you to produce AMP-powered content on a free plan.
This tool also allows you to assign roles and grant permissions within your team. Stripo's live support is available on workdays but only in the morning hours. Although, you won't have to reach out to them often since the builder's interface is as easy as it gets. You can edit the appearance and contents of your email by switching between two tabs in a unified menu.
Now, let's take a look at an example of a Stripo-powered email you can customize in minutes:
Pricing: a free basic plan, $12.50 a month for a business plan, and $40 for an agency plan. By choosing an annual plan, you'll get two months for free.
Chamaileon
Chamaileon offers 100+ pre-made email templates and over 1,000 template blocks. It also allows you to export your creations directly to six ESPs. Free plan users can export up to five created templates but only in HTML. You can also import your own HTML template and modify it according to your needs.
Chamaileon is a bit more pricey than its competitors, but don't let the high price tag intimidate you — its cheapest plan includes not one but five users and five integrations. Besides, this tool offers a few enterprise-level features:
real-time collaboration;
free access to the Pexels stock photo library;
organized email asset library;
shared email preview link;
a review and approval-based workflow.
Chamaileon's interface is very intuitive — you edit the structure of your email using the left tab and customize its content in the right tab.
And here is an example of an email created using one of the Chamaileon templates:
Pricing: a 14-day free trial, $150 a month for a Standard plan, and $250 for a Premium plan. There are also many paid add-ons. You can save up to $500 by choosing annual billing.
BEE Free & BEE Pro
BEE is a very versatile product that offers three versions to cover different user needs:
Free — a light email drag and drop builder with hundreds of beautiful templates and an HTML export option.
Pro — an all-in-one email, page, and form builder with 1,010+ templates, branding options, collaboration tools, and various export options (HTML, PDF, integrations with other tools).
Plugin — an embeddable and customizable version for SaaS and developers.
BEE Pro is created specifically for entrepreneurs, teams, and agencies so that's the one we'd recommend for commercial use. It allows you to design, save, and re-use content, leave comments on individual elements, set up custom settings, assign roles, and instantly preview emails on mobile by scanning a QR code. You can merge tags to create personalized and dynamic content and easily export it to HubSpot, ActiveCampaign, Campaign Monitor, Constant Contact, Klaviyo, etc.
Let's see how BEE Pro's workspace looks: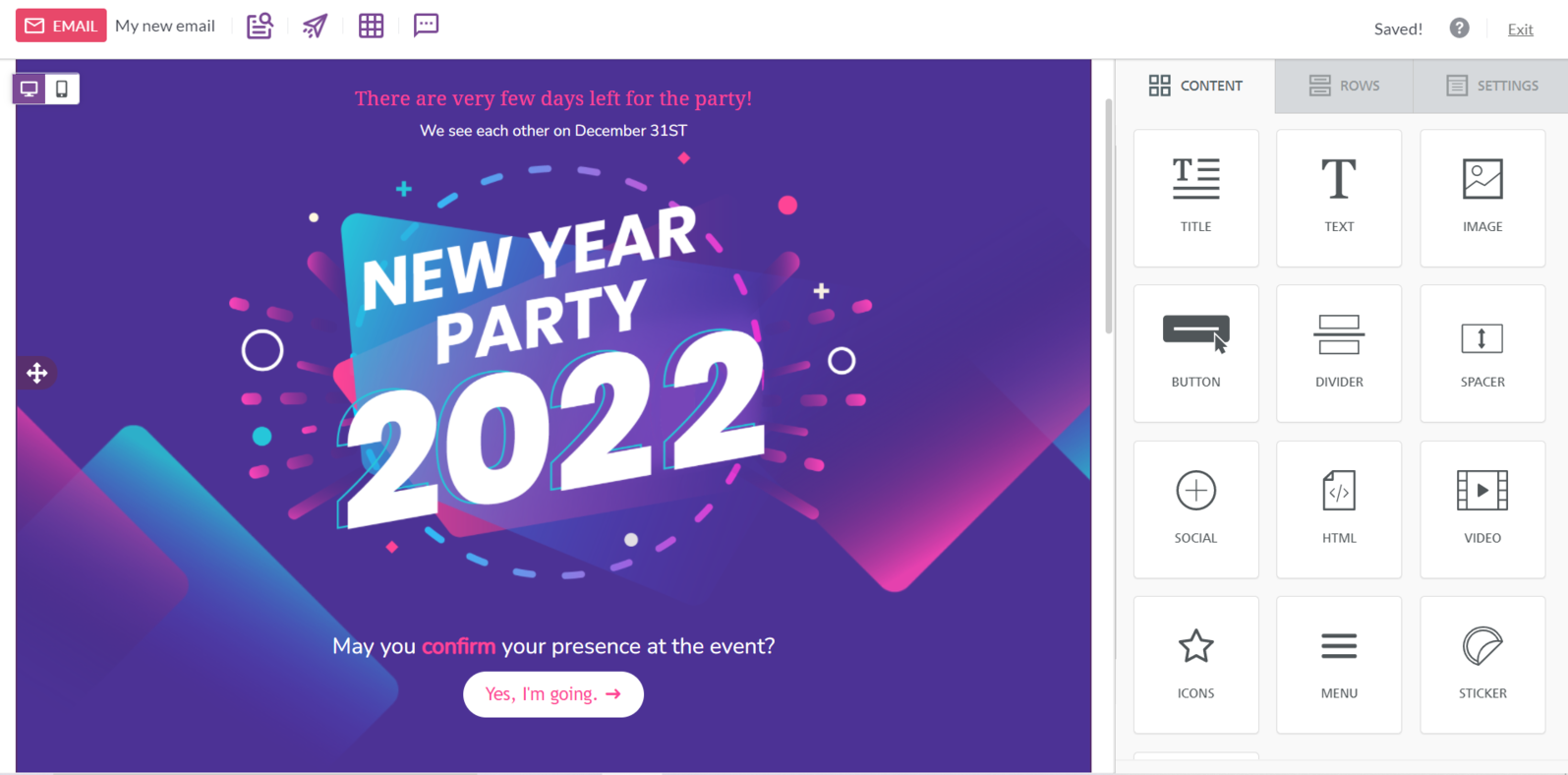 BEE Pro allows you to create effective and good-looking emails, like this one:
Pricing: free with limited functionality, Pro from $15 to $120 a month with a 15-day free trial. BEE is also available as a plugin with extended functionality for $250 a month or more. Save up to 17% by paying yearly.
Postcards
Postcards is a drag and drop email builder that supports easy code editing and offers 100+ template modules. You can add 900+ Google fonts and externally hosted images to your emails. Having a version history will help you collaborate with your team members more efficiently. Export your emails to HubSpot or download them as HTML or ZIP when they're done.
There are no fully pre-designed email layouts with Postcards, but you can quickly build your own email structure by adding and moving customizable blocks (modules). You'll find the available modules in the left menu, categorized by function or purpose.
With Postcards, you can easily create not only commercial but also informational emails. All of the modules are mobile-ready and will look perfect on any device.
Pricing: free with basic features, from 24$ to $39 a month for more advanced features. Save $72 or more by choosing an annual subscription.
Topol.io
Topol.io provides you with 150+ email templates and enables you to create re‑usable custom blocks and use custom HTML code. Add merge tags for greater personalization and feature products from your website in your emails via XML feeds.
You can collaborate with your team members and clients to craft emails together. Topol.io gives you access to Pexels — a free stock library. You can seamlessly export your emails to your favorite email software or download them in HTML or JSON format. Topol.io also offers support during regular business hours.
This tool has a diverse range of templates for various commercial purposes: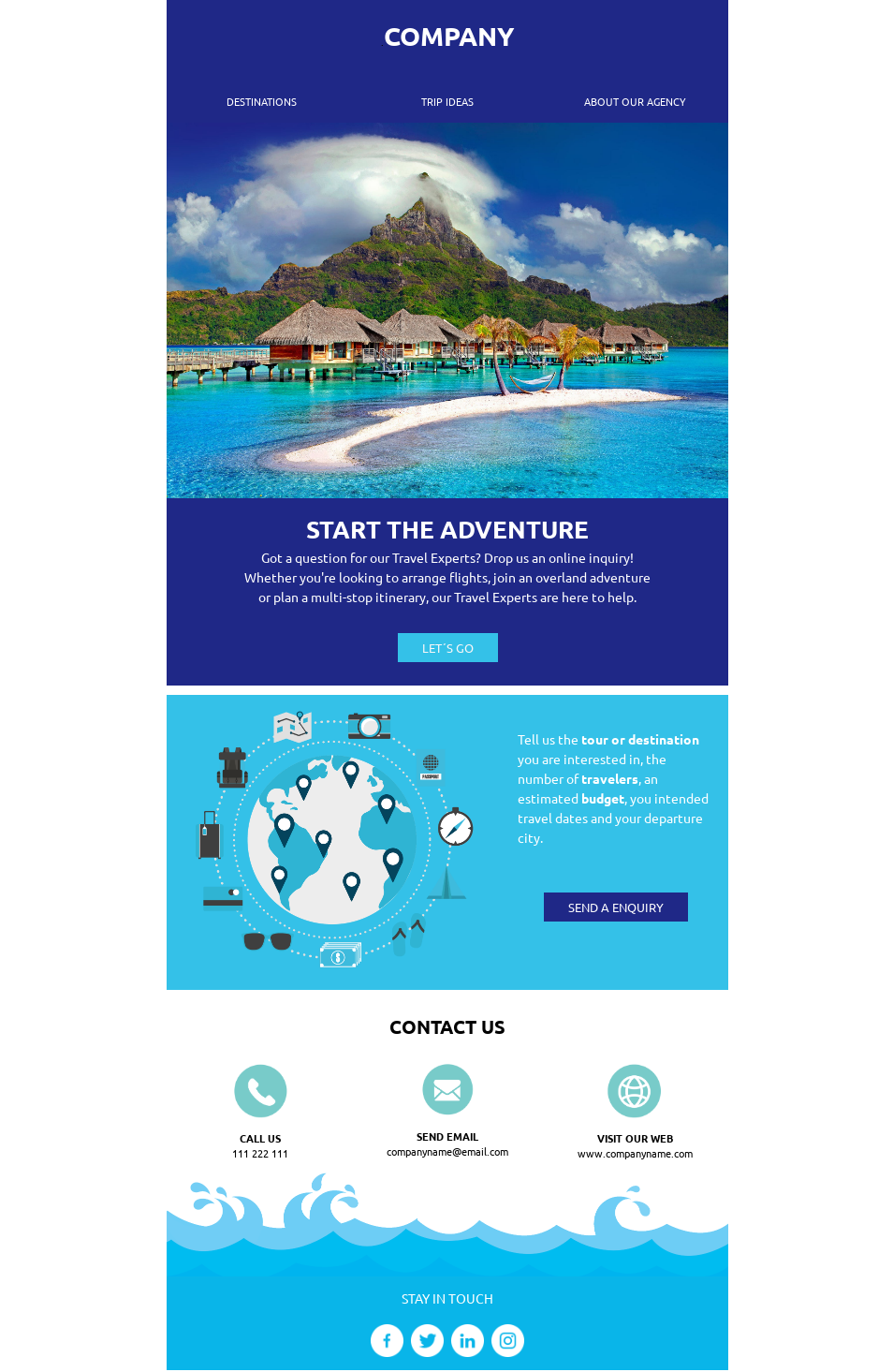 Pricing: a 14-day free trial and a limited free plan for personal use. A plan for teams costs $15 a month or $10 a month when billed annually.
Unlayer
Unlayer helps you design and customize email templates on your own or with a team. You can invite clients to review a draft, assign roles, limit access, or disallow certain actions to make collaborations both easy and safe. Save custom templates and blocks, and navigate between different campaigns with ease, thanks to tags and a quick internal search.
It's also easy to insert merge tags, unsubscribe links, and other special links compatible with any email software you prefer. Unlayer offers direct email export to many ESPs and an option to download emails as ZIP, HTML, or PDF files. The tool has relevant email template bundles for all types of businesses and non-profit organizations. With the paid plan for teams, you can use free stock photos in your emails.
Unlayer has a single menu where you can edit the structure, content, and look of your email template:
Some Unlayer email templates even allow you to insert real customer feedback:
Pricing: a limited free plan and a 14-day free trial for paid plans. A plan for freelancers costs $15 a month, for teams — $30 a month.
MailerSend
MailerSend is a tool created specifically for building and sending transactional emails for eCommerce and SaaS. If you're searching for dynamic yet clean templates coupled with outstanding functionality and flexibility, look no further. In addition to a drag and drop email builder, MailerSend also offers an HTML email builder, and a rich-text email editor.
This software allows you to not just to build but also send bulk emails, monitor their performance, and track a wide range of metrics. It's team-oriented, so you can easily collaborate and track changes in your email designs.
With MailerSend, you can showcase your products, blog posts, or dynamic content in your emails without writing a single line of code.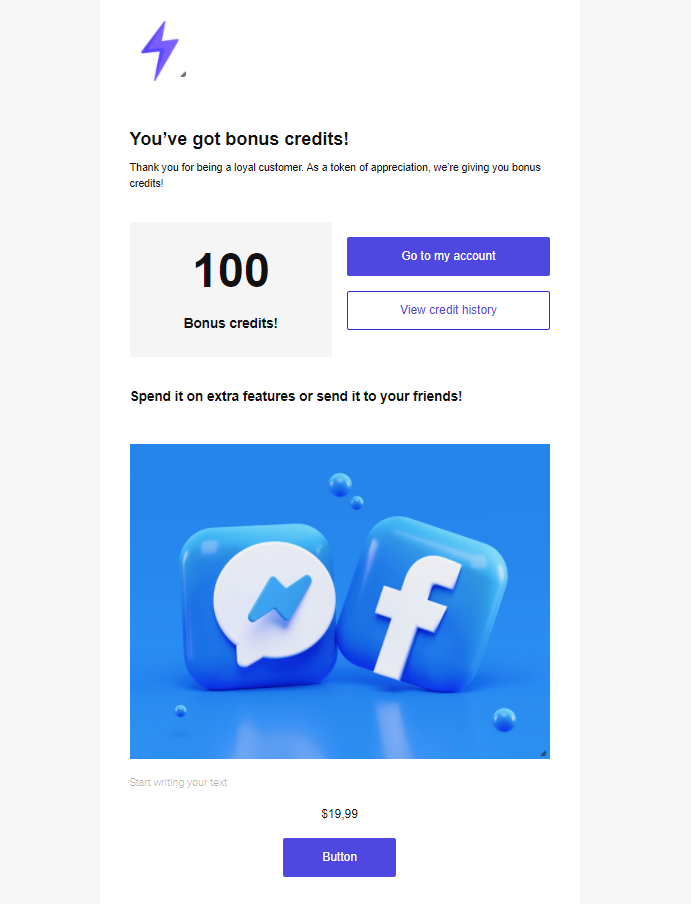 Pricing: 12,000 free emails on the free plan, then from $25 a month, depending on how many emails you plan to send.
Quick functionality overview of the best email template builders
Now that we have reviewed eight paid and free email template builders, let's compare them within the following quick functionality overview.
| | | | | | | |
| --- | --- | --- | --- | --- | --- | --- |
| | Number of templates | HTML import | Video support | GIF support | Social media buttons | Collaboration tools |
| SendPulse | 100+ | + | + | + | + | + |
| Stripo | 900+ | + | + | – | + | + |
| Chamaileon | 100+ | + | + | – | + | ++ |
| BEE Free & BEE Pro | 1000+ | + | + | + | + | + |
| Postcards | 100+ pre-made blocks | – | – | – | + | ++ |
| Topol.io | 150+ | + | + | + | + | + |
| Unlayer | 600+ | + | + | – | + | + |
| MailerSend | 30 | + | – | – | + | ++ |
We believe with this overview of the best email template builders, finding a suitable one shouldn't feel like looking for a needle in a haystack. Decide on the goals of your email campaign, get inspired by looking into your email marketing calendar, and create a class-A template with no sweat. Good luck!