Email campaigns are an effective way to reach your customers, provide useful content and special offers, and build long-lasting quality relationships between a brand and its clients. 59% of marketers claim that email marketing is their most significant source of ROI.
The twelve best email campaigns we've chosen illustrate best practices, such as personalization, care about the reader, and strong calls to action. You can incorporate all these features into your email marketing campaigns to squeeze every drop of ROI out of your efforts.

Netflix
The streaming giant, Netflix, shows a great example of how to keep an email copy of an automated email campaign short and sweet. The email a company sends to encourage a user to purchase a paid plan can be read in one minute. Regardless of its conciseness, the message still manages to provide all the essential information for the reader: what payment methods are available, how users can easily cancel their subscription, and where to direct their questions.
Also, the company has incorporated its tone of voice in this email — witty and informal. Looking through the message, the reader can still recognize the good old style, which Netflix uses in other channels of communication. Sticking to a brand's tone helps to build trust from the very beginning.
The visuals look excellent, even with only three contrasting colors. CTA buttons stand out and grab attention, although the urgency to take action could be expressed a bit more strongly.
Intuit
Welcome emails are a big deal — it is the first contact with a subscriber. It is better to take them seriously because you'll never get a second chance to make a first impression. You can get a dose of inspiration for your welcome email from the accounting software maker, Intuit.
The design is simple and pleasant while also including an image of the product. Two bright and highly-visible call to action buttons encourage recipients to start improving their lives with the service. The best thing about this message is the copy and especially the tone of voice — caring, touching, and emphasizing the recipient's benefits from using Mint.
By the way, the swiftness is also nice — the email lands in the inbox just a couple of minutes after a new subscription. It is crucial to remind the person that they subscribed to the newsletter and get in touch while they are warm and interested. To automatically send a welcome email right on time to every new subscriber, try SendPulse. Find out how to create a welcome email campaign.
Autopilot
Our inboxes are often overwhelmed with promotional emails, so the chances for an email campaign sent from the brand's generic email address to go unnoticed are quite high. On the contrary, email addresses like johndoe@brandname.com have a 15-35% higher open rate.
Autopilot, marketing automation software service, benefits from using this method. A new subscriber receives several emails about the service, including an email from the company's CEO. Certainly, this is an automated email campaign, but it looks exactly like an email from a friend — no excessive design, no images in the email's body.

The friendly tone of voice creates a laid back atmosphere, while links to videos and tools, and an invitation to further interaction work as hints about what actions to take in the future.
Pay attention to the way Autopilot gently includes the social proofs into this email. The company talks about helping their customers increase their revenue and accentuates an award for the best marketing software.
Testimonials are a powerful tool for increasing your email conversion rate — 72% of people said reviews and testimonials make them trust the business more. To empower your email marketing with this tool, check our instructions for using social proofs.
Artifact Uprising
Sending email campaigns is a great way to interact with your audience and build strong relationships with customers. However, the final goal for any marketing activity is increasing sales, and the right email marketing approach will allow you to do just that. After all, people expect and prefer to receive offers via email.
The printing service, Artifact Uprising, starts communication with new subscribers by using the common practice of offering a discount. More significant is that a company lets the receiver get familiar with their product, mission, and values, all of which the email copy emphasizes.
The most powerful feature of this email is its design. Crisp, minimalistic, softly-colored, and well-produced, it pleases the eye, makes navigation through the whole message easy, and accentuates the company's products.
VSCO
Animated GIF images are a great tool for content marketing. They are a good alternative to videos — auto-playing animated pictures that can show the same things. However, GIFs won't slow the email download process, which is particularly significant for mobile devices users.
Interestingly, 21.2% of brands never use GIFs in their email campaigns. So now's your chance to stand out among them, like VSCO, an app for simplifying photo editing, did. The company starts its email with a GIF to grab the reader's attention.
Another great part of this re-engagement email is that it doesn't just encourage the recipient to get a membership; it also provides value. VSCO presents its new tool and offers a precise guide on using it. The CTA button stands out thanks to its bright blue color, full-width size, and perfect location in the middle of the email's body.
The copy is concise, yet it provides all information a reader needs: an introduction to the tool, descriptions of its use cases for editing images, and a 7-day free trial.
Kiehl's
Holidays, and birthdays, in particular, are an excellent reason to get in touch with your customers and increase their loyalty with special offers and gifts. Birthday email campaigns have twofold the open and unique click rate of business as usual emails. So, it's a good idea to use them in your email marketing as the cosmetic brand, Kiehl's, does.
The company asks users to provide their date of birth during the early steps of registering on their website. On the special day, the brand sends an email with a free birthday treat, which is added by default to any order on Kiehl's website.
To help the reader, the company offers some products for purchasing in the same email. The email accentuates a special offer right from the headline "Our gift to you!" and encourages the recipient to treat themself with the body copy.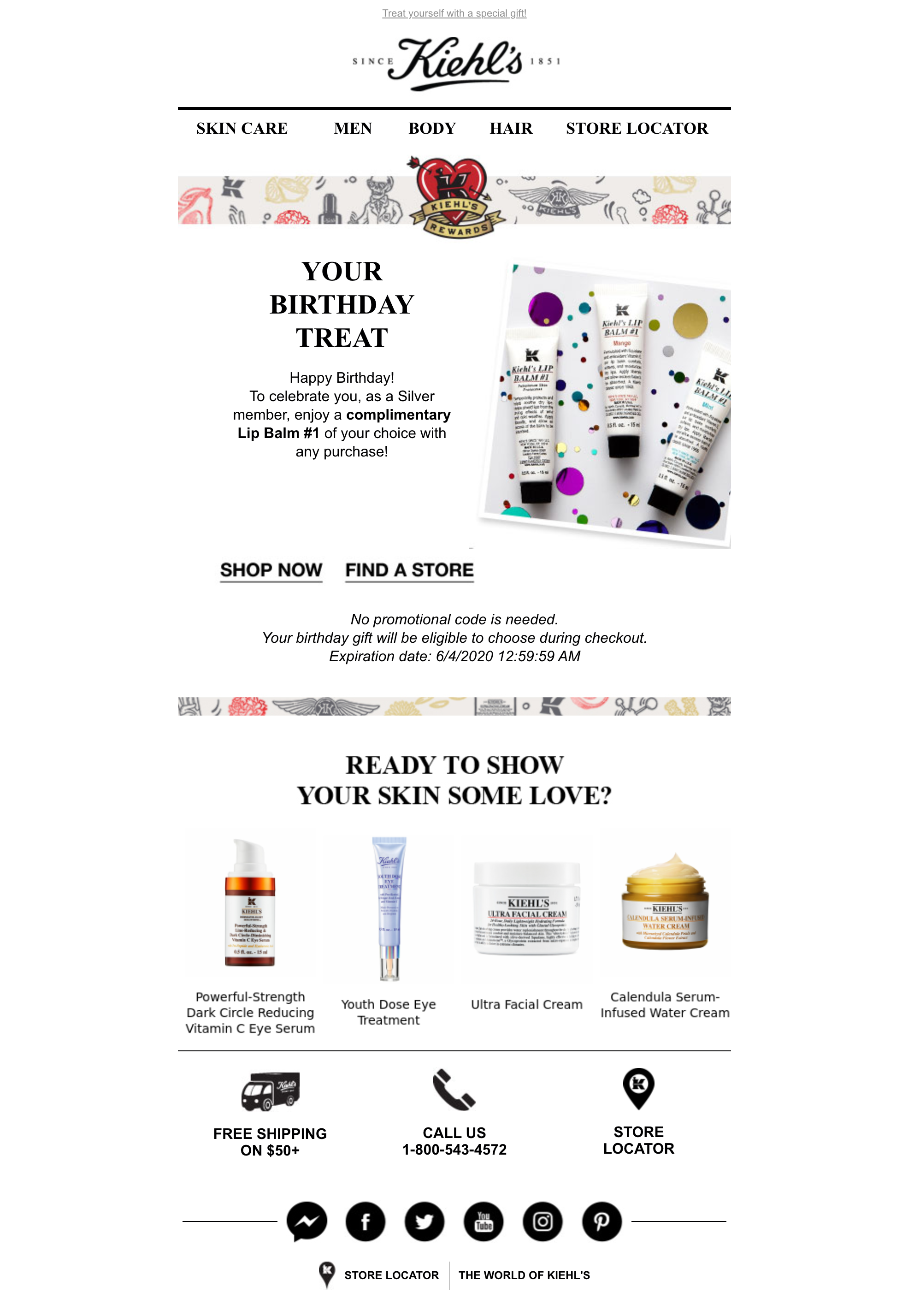 SendPulse allows its users to send birthday emails easily with Automation 360. All you need is to know your subscribers' birth dates and set up the email campaign once. Check out our instructions on how to create the best email campaigns for special dates. You can also find some inspiration for birthday emails in our guide on how to congratulate your subscribers.
Product Hunt
It's important to reach customers through email marketing regularly because they get used to receiving messages from your brand daily or weekly and are waiting for your emails in their inboxes. On the contrary, irregular interactions may cause confusion.
While building regular communication with your clients, remember that bombarding customers with offers or company news probably won't work well. It's best to focus on providing value for the reader.
Product Hunt, an online platform for sharing and discovering new products, does both regular communication and provides value in its newsletters. The reader can choose how often they would like to receive emails, monthly or weekly. Moreover, it is easy to switch the frequency at the bottom of the email.
Each daily email starts with a topic of current interest — remote work, COVID-19, news from big companies, etc. Also, their email consists of a listing of top products and a couple of offers from partners.
What is particularly good about the Product Hunt email campaigns is their copy. The well-chosen topics provoke interest. The introduction is written in a conversational manner that makes the email an enjoyable read to start your day, and proper calls to action in the right places encourage subscribers to visit the website and check out the products.
Quora
Personalization is a must-have trend in modern email marketing. It allows brands to precisely target the email exactly at the audience they need, and boost subscribers' trust in the brand. There are tons of ways to personalize your email campaigns, from adding the recipient's name in the greeting to making offers based on their interests.
The question-and-answer website, Quora, uses the latter technique by offering the reader topics based on their last requests. In its email campaigns, Quora not only shows the queries related to the recipient's previous search results but also highlights some answers. This approach fuels curiosity and provokes the desire to read more.
Want to add personalization to your email strategy too? Try variables and smart personalization tools with SendPulse. You can use pre-made variables or create your own custom variables to target your messages at specific groups of people according to their needs. For instance, you can divide males and females or dog owners from cat owners. Smart personalization allows you to segment different groups of recipients and to send them different messages.
The Hustle
Product catalogs, special offers, and gifts are all proven ways of launching your best email marketing campaigns. However, there is another way to create them — you can send great articles straight to your customers' inboxes. Learn how to do it with this example from the current events newsletter service The Hustle.
The strongest feature of The Hustle's email campaigns is their copywriting; significant events in the world are explained simply and seasoned with humor makes these messages special and appreciated by readers. Pay attention, how accurately and naturally sponsored content is included in the email.
You can use this communication approach with customers in your email marketing campaigns too. For example, you can provide pet care tips if you're doing marketing for a pet shop, or choose a new book and publish excerpts from it in your newsletter if you're representing a bookstore, or explain business events to customers if you're working in the B2B sector.
Toggl
Another example of using current events in the email campaigns is an email from time tracking software service Toggl. They seized the moment during the COVID-19 crisis and the overall transition to remote work and sent a message providing useful tips and encouraging people to join their team.
What deserves a special appreciation about this campaign is the compassionate and soothing tone of voice that gives readers a glimmer of hope in this time. The company also refers to its own experience in dealing with remote work difficulties, which increases trust and reinforces the feeling of interpersonal communication with a friend.
The visual part is also done well; the email is easy-to-read and minimalist yet attention-grabbing. Customized images in the company's own style set the tone and create unity with the main website look.
However, situational marketing is a tough job, especially in times of crisis. So, you should be really careful with it and make sure that no one can accuse your brand of taking advantage of the situation in a bad way.
Bonobos
Abandoned cart emails are an important part of email marketing and a great opportunity to increase sales. The recipient has already visited your website, chosen some products, and almost completed the order, but something went wrong. Your task is to remind them about the purchase, offer your help, and let them know you care.
The men's clothing store, Bonobos, shows a great example of an abandoned cart email in several ways. Firstly, its laconic design recreates the website's main page. Secondly, they make a 15% discount offer straight away. Also, Bonobos nails the email with the copy, precise, flirty, and flavored with humor. And the final hit is a call to action, which creates scarcity and thus increases the desire to make a purchase.
Getting benefits from the abandoned cart emails is as easy as pie with SendPulse. Use our Automation 360 tool, set up the sending process once, and benefit from the results long afterward. To get inspiration, read our guide on creating abandoned cart emails with SendPulse.
Skillshare
If the product or service you offer is complex, it is a good idea to encourage customers to learn more about it through your email marketing campaigns. The online learning community, Skillshare, uses this strategy and invites subscribers to explore popular courses or participate in workshops.
The email below is a kind of showcase of workshops the reader can attend; no excessive copy, just images, headlines, and CTA buttons. Calls to action are designed thoroughly — it's plain to see which of them the company wants you to click on in the first place (yes, the bright green ones). Another great feature is the infographic explaining the advantages of the workshops — it's clear, concise, and easy-to-read.
Email marketing is an effective way of communicating with your clients. It helps increase sales, convert subscribers into customers, and introduce all the benefits of your product to clients. Proper tools allow you to implement it into your marketing strategy easily — try SendPulse to create, personalize, automate, and send your best email marketing campaigns.