Whether you're a small business owner or run an established company, Chrome extensions can significantly boost your productivity. Entrepreneurs who embrace small business apps, accounting software, and innovative automation tools are streamlining their daily tasks and elevating their enterprises.
In this post, we'll take a look at the best Chrome extensions for businesses and dwell on their functionality. Let's jump into it!
Best Chrome extensions for email marketing
Chrome extensions for email marketing can play a pivotal role for businesses as they can streamline email marketing tasks, saving time and effort. Here's a list of the best extensions for Chrome email marketers can use to make creating email templates, crafting subject lines, and finding email addresses easier.
SendPulse
If you're seeking inspiration for your email marketing campaigns, explore the advantages of the free Chrome extension by SendPulse, Save Email Template. This plugin enables you to save emails from your Gmail inbox in various formats, including PDFs, full-length screenshots, or HTML templates. By adopting this user-friendly approach, you can create a repository of eye-catching emails from your inbox to use as valuable references for your next campaigns.
Moreover, this extension allows you to seamlessly transfer any email template to your SendPulse account, where you can further customize it to suit your needs and send it to your audience — no design, coding, or technical expertise required.
ColorZilla
Have you ever found yourself attempting to find a specific hex color code to be used while crafting a newsletter? ColorZilla can make your life easier by allowing you to seamlessly identify the exact color of any pixel on your page. Moreover, you can select colors from a palette and get the corresponding CSS code for each shade. This extension for Google Chrome also proves helpful when striving to stay consistent with a particular landing page or color palette.
Headlinr
Headlinr is another Chrome extension on our list of helpful tools. It's designed to create engaging subject lines or titles for your emails and blog posts that are crucial for capturing attention. This tool provides numerous headline variations based on a specific keyword, saving you time and helping you brainstorm ideas.
Snov.io
Email Finder by Snov.io proves helpful for discovering email addresses across LinkedIn, Google, Yelp, Twitter, and company websites. Especially effective with Sales Navigator, it helps gather leads aligned with your ideal customer profile.
Moreover, this Google Chrome extension goes beyond mere contact emails; it also extracts valuable business and lead information. Armed with these insights, you can better understand your prospects, significantly enhancing your success rate in turning leads into paying customers.
Hunter
Another Chrome extension for better outreach is Hunter. While browsing a website, you can simply click on the icon to retrieve a list of email addresses directly within your browser. This tool unveils all email addresses associated with the site's domain name. For each email, Hunter goes a step further, offering details about its sources and the date of discovery. Not limited to Chrome, Hunter is also available for other browsers like Firefox and Edge.
Best Chrome extensions to improve your writing
Effective content writing is essential for any online business, and thankfully, there are Chrome extensions to streamline the process. From fixing grammar to generating ideas, these tools can help you write better and faster — let's explore some of them.
Grammarly
Maintaining a polished and professional image is paramount for marketing teams working with blog posts, website content, or customer communications. Grammarly can help you with that. It is a reliable Chrome extension that offers real-time spelling and grammar checks as you type, ensuring your content is error-free, clear, impactful, and easily digestible. While Grammarly is a free Chrome extension, those seeking more in-depth feedback and suggestions for their texts can opt for a Premium plan.
Ludwig Guru
Similar to Grammarly, Ludwig Guru enhances your ability to express ideas and create flawless content. This valuable extension for Chrome provides insightful feedback on your text and practical tips for readability and conciseness. What makes this tool unique is its AI-powered paraphraser, which provides alternative rewrites.
It can also benefit those running websites in multiple languages, as it offers contextualized English translations and specific suggestions on styling and word choice for impeccable content across various languages.
LanguageTool
LanguageTool is a versatile grammar checker available as a free Chrome extension or software. Supporting over 30 languages, it excels in grammar, punctuation, spelling, and style checks. Its AI-powered feature helps find the right words and offers rephrasing options for formality, fluency, simplicity, or conciseness. Chrome users can opt for the free version for basic checks or the premium option for comprehensive reviews. Team accounts are also available for companies.
Best Chrome extensions to optimize your content
SEO is essential if you want your site to rank on Google, and the right extension can help you improve your workflow. From finding the right keywords to crafting click-worthy headlines, these tools are about to boost your online presence.
Keywords Everywhere
Keywords Everywhere is a Chrome extension designed to empower your keyword research across various websites, including Google Search Console, YouTube, Amazon, and many more.
The free version offers valuable features like ChatGPT Prompt Templates for optimized content creation, Instagram Hashtag Generator to elevate your social media presence, and Pinterest Insights for monitoring trends. Opting for the paid plan will provide additional capabilities, such as on-page analysis and competitor keyword research. Besides, this tool seamlessly integrates with multiple Google properties, eCommerce platforms, and search engines.

Headline Studio by CoSchedule
Creating captivating headlines will become easier with the help of Headline Studio. This free Chrome extension can customize headlines for a multitude of platforms, ensuring your content captures the attention it deserves. With this tool, you get valuable feedback and suggestions tailored to your content type, including insights on word balance and character count.
Compatible with various social media platforms like YouTube, TikTok, and blogs, this extension goes beyond by comparing your video titles with others in your category and providing constructive feedback. Additionally, it offers personalized recommendations for more engaging Instagram captions.
Best Chrome extensions for productivity and collaboration
Productivity-focused Chrome extensions can boost efficiency and keep your digital workspace in shape. Whether automating repetitive tasks, mastering tab management, or ensuring quick access to essential information, these extensions are your shortcut to a more streamlined online experience and a well-organized digital life.
Todoist
Todoist is another free Chrome extension that can help you monitor and manage your projects and tasks right from your browser. With this extension, you can effortlessly set due dates, establish reminders, and foster productive routines using the recurring-date feature.
You can color-code your projects, make sub-groups and sub-projects, and oversee your daily to-do list. Besides, it lets you create tasks and sub-tasks, breaking down larger undertakings into manageable steps and providing a comprehensive view of your progress. Todoist also facilitates collaboration by enabling you to create and share projects with your colleagues.
OneTab
OneTab is your go-to solution for efficient tab management. This Google Chrome extension optimizes your computer's performance by decluttering tabs and offers you the flexibility to restore them individually or in bulk, lock tab groups to prevent deleting them accidentally, and reorder tabs for improved organization.
OneTab allows you to transform your tab list into a web page, simplifying sharing across devices or with others. You can also categorize tabs into groups, assign custom names, and manage them as you like.
Vimium
Vimium can help you enhance your web browsing with keyboard commands. This free extension for Google Chrome lets you utilize shortcuts to easily access online essentials. For instance, you can use "J" and "K" to scroll up and down, and while you scroll, Vimium will display clickable links with corresponding letters for quick activation in new tabs.
You can also initiate Google searches, access bookmarks, and revisit your browsing history. Besides, Vimium features command repetition, enabling actions like closing multiple tabs by pressing "x" repeatedly.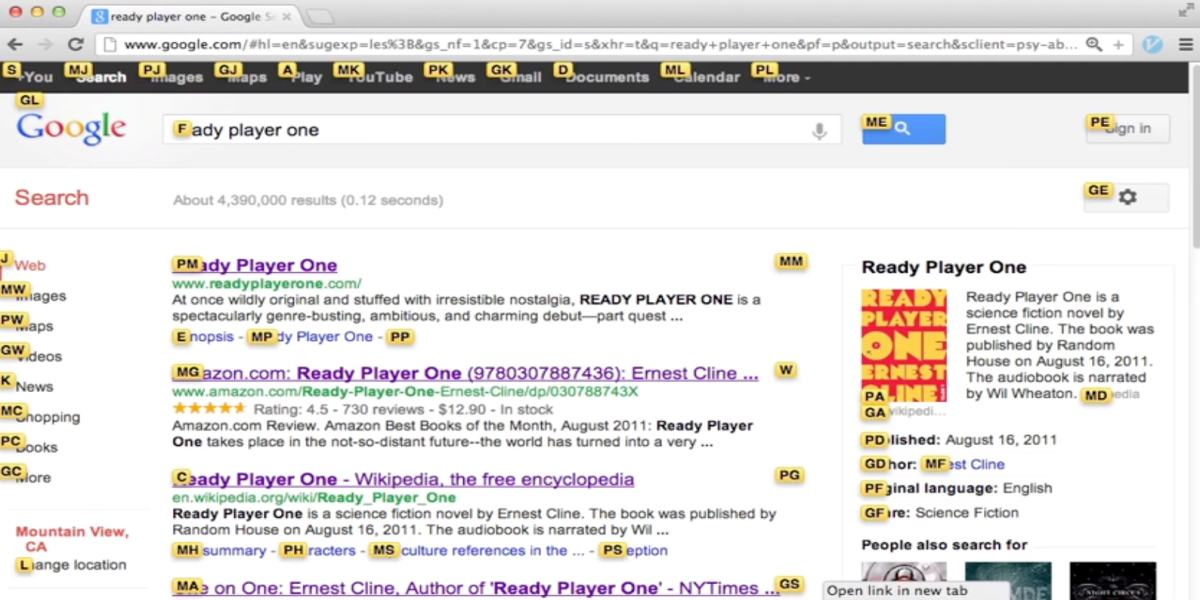 Forest
If you work at a computer, you might be easily distracted from your tasks. Forest aims to motivate you to stay focused on your project in a playful way.
Here's how it works: you start by planting a virtual tree. If you avoid visiting specific websites on your blocklist for 30 minutes, the tree grows, and you receive it as a reward. However, if you interrupt the app during this time, your tree withers. This system rewards focused work by creating a virtual forest, which you can share with friends on social networks. Additionally, you can track statistics, such as the number of successfully grown trees.
Right Inbox
Right Inbox is a free Chrome extension that enhances your Gmail experience with features like email scheduling, tracking, templates, reminders, follow-ups, signatures, CRM integration, inbox pause, and more.
This tool allows you to compose emails conveniently and send them precisely when it suits your recipients. You can schedule emails based on your recipient's time zone. Additionally, you can use the "Signatures" feature to create multiple options and quickly select the ideal one for any scenario with a single click. Moreover, you can attach private notes to your emails, keeping them confidential for your exclusive reference.
SimplifyNote
SimplifyNote is a note-making assistant and a complementary Google Chrome extension designed to enhance your organizing experience. With a single click, you can effortlessly gather text and key insights from web pages, YouTube videos, and PDFs into neatly formatted Google Docs.
The "Click and Snip" feature enables you to insert images, diagrams, charts, tables, and other visuals directly into your notes with a simple click or by selecting the desired area. Utilizing the styles tab, you can redesign your headings, subheadings, bullet points, and paragraphs. SimplifyNote ensures that all your notes and documents are neatly cataloged in a well-structured note tab. Moreover, all documents are user-friendly and easily shareable.
Scribe
The Scribe Chrome extension allows you to streamline capturing, customizing, and sharing information efficiently with your colleagues. This tool simplifies the process of guide creation, allowing you to capture any process, whether on desktop applications or in your browser.
Scribe can automatically generate a step-by-step guide for you, which you can then edit to include tips, update steps, and annotate screenshots as needed. You can even combine multiple guides, enriching them with text and video content. Besides, sharing or embedding your guides directly into your documentation is as easy as a single click.
Best Chrome extensions for self and screen recordings
Self and screen recording extensions are perfect for making corporate training materials and tutorials. Whether it's recording video demos and walkthroughs to onboard new employees faster or facilitating customer support and collaboration, these extensions prove to be incredibly helpful tools for various scenarios.
Loom
Loom's Chrome extension lets you record your computer screen, capturing any application or browser tab. Ideal for creating video tutorials, walkthroughs, or sharing your screen for presentations or troubleshooting, Loom is a versatile recording extension. You can use it to record video messages directly within your Gmail or other email clients, enhancing your communication with visual context or instructions.
Beyond screen recording, this extension enables webcam recording, allowing you to share videos via a link or embed them in emails, chat applications, or other platforms. There is also the option to leave comments on videos to facilitate discussions and collaboration around the content.
ClickUp
ClickUp is a free Chrome extension that empowers you to capture and share messages via links, emails, or within its email interface, all without watermarks on your content and no limitations on your recording duration. This extension offers several recording options, allowing you to capture the entire screen, a specific tab, or a device screen.
Beyond screen recording, ClickUp offers essential tracking features for effective team management. Utilizing the screen recording extension grants you access to various app integrations, templates, project tracking tools, and robust collaboration features.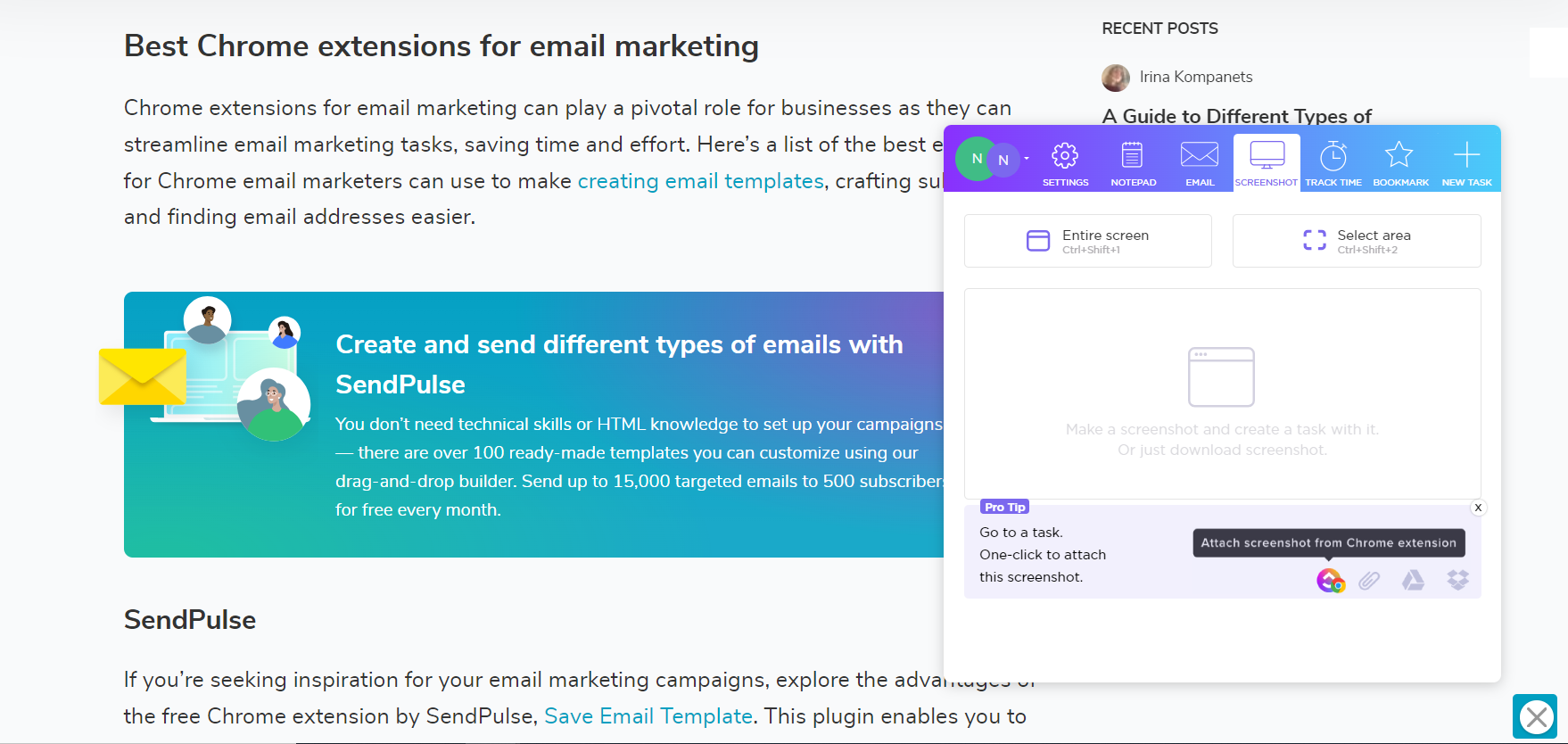 Screencastify
Screencastify is another screen recording extension for Google Chrome. It can come in handy for generating instructional videos, how-to tutorials, demonstrations, and capturing meeting proceedings. This Google Chrome extension allows you to record your screen, webcam, or both concurrently, providing flexibility to meet your specific needs.
Its seamless integration with Google Education makes Screencastify an ideal choice for educational content creators. It offers interactive tools designed to elevate the learning experience and onboarding quality. Besides, Screencastify's annotation tools allow on-screen markup during recording, adding depth to your presentations.
Best Chrome extensions for security and privacy
As a business, you should fortify your security and privacy. Let's explore some tools that can safeguard sensitive data, block ads, securely manage passwords, and enable multi-factor authentication, contributing to a safer online environment for your business.
Ghostery
Ghostery is a robust privacy extension that excels in ad blocking, tracker prevention, and website speed optimization. Offering seamless online privacy protection without the need for customization or maintenance, this Chrome extension goes beyond typical ad-blocking functionalities.
In addition to blocking ads, this Chrome extension stops trackers' ability to harvest your personal data by substituting it with random values to anonymize your identity. However, it gives you the flexibility to unblock specific trackers if needed. Ghostery also automates the removal of intrusive cookie pop-ups, sending a clear message to website owners about your desire not to be tracked.
XQ Secure Gmail
XQ Secure Gmail is designed to provide security and data protection for professionals and businesses, offering seamless integration with Gmail, Outlook, and future-proofed technologies. This free Chrome extension encrypts and tracks messages and files directly within Gmail and Outlook, ensuring the secure exchange of sensitive data.
This extension goes beyond standard security measures, detecting and preventing Business Email Compromise attacks in real time, significantly reducing the risk window from months to minutes. XQ also renders data useless to hackers, offering granular control and mitigating potential damage in the event of a breach. Additionally, geolocation features ensure that data remains within designated regions, meeting the GDPR compliance standards.
Keeper Password Manager
Keeper Password Manager is a Google Chrome extension for generating strong passwords, managing passkeys, and securing confidential information. It automatically creates unique passwords and encrypts them within a digital vault. Then, you can easily autofill your stored credentials on websites and apps.
In addition to passwords, Keeper allows you to secure files, photos, videos, payment card details, bank information, and other sensitive data. You can also share this data if needed; the tool keeps you informed in case of a breached account.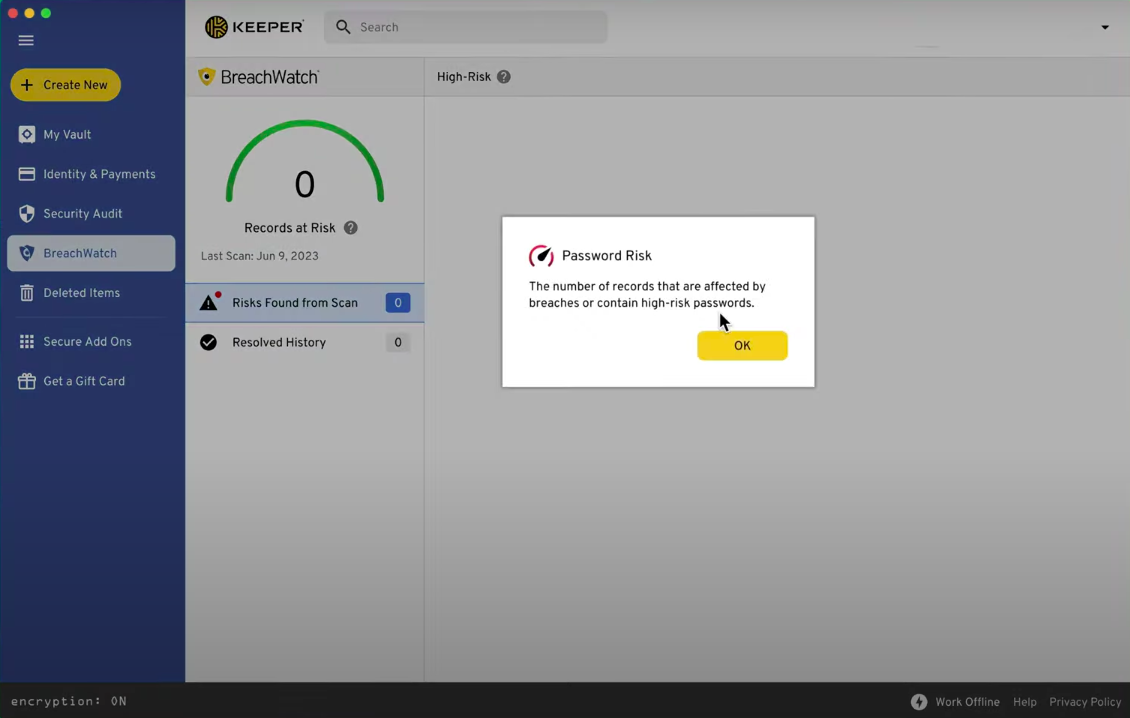 Guardio
Guardio is an antivirus extension that offers extensive protection against viruses and malware while optimizing your browser's performance and securing private data. It blocks harmful sites and provides an anti-phishing defense against attempts to steal personal or payment information from emails and web pages.
This free Chrome extension also helps eliminate unwanted and potentially harmful notifications, enhancing your overall browsing experience. Besides, Guardio identifies and removes malicious extensions that could compromise your browser settings.
Final thoughts
Chrome extensions are indispensable tools for businesses, providing diverse benefits and features that boost productivity and automate tasks. Customizable for specific industry needs, they empower employees to save time, stay more focused, and enhance efficiency. These tools also help to create and optimize content and track and schedule different tasks.
Besides offering a free Chrome extension, SendPulse can streamline business owners' marketing and sales routines. You can get started now by creating your free account — no card details are required!