"Content is the king" is a golden rule for marketers now. SEO is pretty much useless when you can not offer informative and engaging content.
Another golden rule is you have to tailor content according to the needs of your audience. You can not expect all elderly people to read and understand something about cybersecurity — your efforts will just go to waste.
Today, we'll explore how to use your resources in B2B content marketing effectively: what it is, how it is different from B2C content marketing, and some best strategies.
What is B2B content marketing?
B2B content marketing is a marketing strategy that allows businesses to attract more businesses as their clients, expand their influence, and create a brand's name with the help of content. The content format does not really matter — it can be a text, a picture, a video, some audio, or a mixture of everything.
B2B is about business to business. Thus, B2B content marketing is used by companies who are targeted at other businesses and want to attract very specific leads rather than very diverse consumers.
Learn how to create a successful B2B social media campaign and explore some top-notch case studies.
What is the difference between B2B and B2C content marketing?
Even though some experts say that the difference between B2B and B2C content becomes less vivid, there is still a long way to go: guides on B2C are useless for B2B businesses.

The main difference is in a buyer persona, which drives other changes. B2B buyer persona is a professional in a certain domain. Sometimes they are the ones to make decisions, and sometimes they are a part of a team. They always think about the benefits for the company as a whole rather than individual satisfaction and, therefore, it is less about appealing to emotions and more about appealing to the facts and economic benefits to the business.
B2B companies also have a different goal. B2C is all about selling, letting consumers try their product, and immediately solving their problems because they target short-term cooperation. Around 80% of B2C marketers see lead nurturing as their main goal. B2B content marketing strategy is about establishing trust and expertise, and leadership on the market because this is a long-term relationship. Therefore, brand awareness and engagement have become a primary goal for 74% and 71% of B2B marketers.
Lastly, it is also about the information you focus on. B2C consumers are more likely to be interested in content that appeals to their emotions, gives a brand's backstory, lets them know how you can address their needs. B2B, on the other side, is more straightforward and complex. B2B customers are very well informed, so you should focus on showing your knowledge, explaining how your product can help their business, and why they should trust your company at all. If storytelling is acceptable, it is mostly used for your success stories with other businesses.
One of the B2B content marketing examples is SavvyCom, a software development company that targets businesses. Their content is mostly case studies, how-tos, and trend tops — content that is extremely useful for their audience and shows their expertise.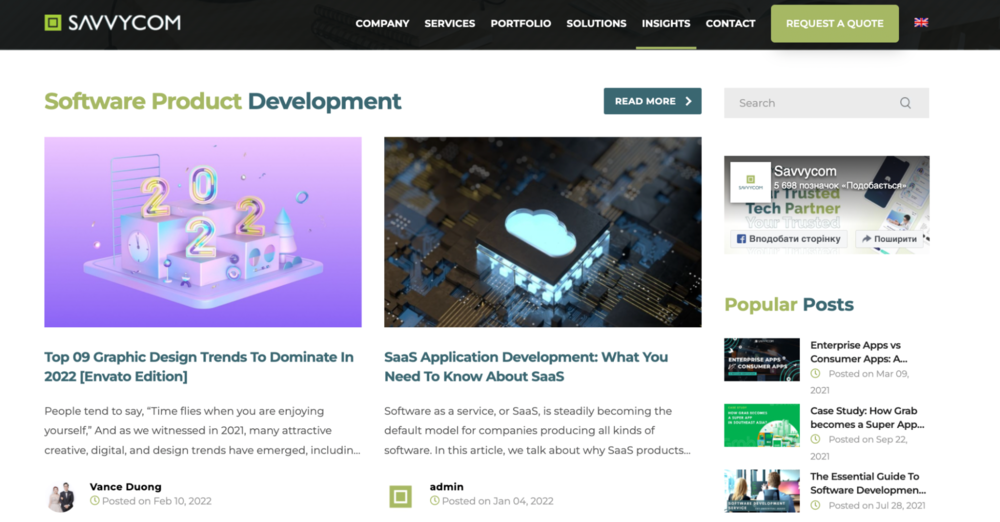 Then we have Grammarly, an online writing assistant used by an average consumer. They share content that helps one user rather than an entire company. Their blog posts are aimed at the audience with little previous knowledge; they address current social issues and often publish posts just for fun — astrology tests, memes of the year, or top words.
Benefits of B2B content marketing
It is true that content marketing requires a lot of effort and consistency: you can not just publish content when you feel like it twice a year. However, it has such great benefits that the effort does not seem that big anymore. Let's take a closer look at why content marketing is important for B2B companies.
Establish yourself as an industry expert
Businesses care a lot about the reputation of companies they work with. They make sure that their possible partners know what they are doing and that they can fully rely on them. Content is the best way to show that you are this kind of business: knowledgeable, trustworthy, and expert.
Tell more about your services or products
Yes, landing pages are good, but they have one obvious drawback: they have to be too short, straight to the point, and full of bullet lists. As a result, it is challenging to describe services or products in full detail. Yet, you can do it in your blog posts: you can address the problems that businesses may face, further explain the benefits of the product in terms of ROI, and let people see how it works, and what consequences it has in a case study. You can also show an overview of the product and how it works in a video.
Learn the fundamentals of selling services online and establishing trust.
Drive website traffic
High-quality content is the best way to attract more traffic. Keywords will never work alone; you need more than some words in the right places to draw people in and hold their attention. Great content will make people follow interesting blog entries, boost your time spent on the website, and share the piece to attract even more people.
Get ready to fight the competition
Let's be honest: many businesses offer the same or similar services and products. So you have to somehow convince a potential client that you will be the top choice before they even contact you. Content is one of your weapons. You can outrank the competitors in search results by putting keywords in your articles, you can establish yourself as a household name in your industry so that everyone knows you and barely knows others, and your content may become a deciding factor if you are compared to an identical company.
Learn more about analyzing the content marketing strategy of your competitors and what are some of the best tools for this purpose.
Tips for building a successful B2B content marketing strategy
However, content can become a hit or miss, and you can turn all the benefits into vulnerabilities. Let us show you how to always hit your target with B2B content.
Understand your audience
Buyer personas exist in the B2B content realm as well, and you should be really aware of who they are if you want to create content that is relevant and understandable for them. Every company has a decision-maker, and you have to know what position they have in the company, what they value the most, and what their level of understanding is.
For instance, you can not expect business analysts to understand an article about Python language for data projects with lots of code snippets and tech terms. Based on your research on buyer personas, you should build your messages and tone of voice. If you are targeting more than one decision-maker, you should also try to create content for every position that can have an impact.
Go to communities to find topic ideas
Finding new fresh content ideas becomes very tiresome after some time. Most marketers use keywords research to find something new, but they find basic topics that are googled over and over again or that are already covered on their blog. Communities are another realm: you can find both newcomers and professionals there and learn what different audiences need. You can find the hottest discussions and write a post or an email with your stance on it, or find quickly emerging trends and be the first one to write a how-to about them.
You can find community members on LinkedIn, Facebook, Quora, or even in comment sections under your or your competitor's posts. It is always good to check your comments, messages, replies, and emails to see whether users have any new questions regarding your expertise.
Make use of gated content
Gated content is a great way to get users' emails to send them even more info later and build a meaningful relationship. You should link to your gated content in existing blog posts and embed it into pop-ups on relevant pages.
However, gated content should really be exciting: you can not create a basic guide that users can find everywhere else and expect everyone to give their email in exchange. Use templates, calculators, video tutorials, and example lookbooks as gated content and post how-tos and trends for free. It will help visitors understand whether you actually have great knowledge and whether the download will be worth it.
Learn how to correctly repurpose your content across multiple communication channels to extend its reach.
Create glossaries and libraries
Glossaries and libraries can help you not only with SEO but also with internal linking. You can give simple explanations and lead visitors to more advanced content by giving hyperlinks or putting them into the "Related content" box under the definition.
At SendPulse, we have created the Glossary, too, and it helps us drive more traffic to our product pages and blog posts.
Promote your content
Yes, we need a little bit of marketing for our marketing. Just publishing a white paper or a useful guide is not enough — make people aware of its existence.
You can do it on your social media; LinkedIn and Facebook work best for B2B. However, one of the best ways to update businesses on your new content is to make a newsletter. Let people know about your top-performing pieces and what your content team is proud of via emails — it is one of the most widely used communication channels.

B2B content formats and examples
B2B offers creative freedom in terms of content formats: some of them are more strict and professional, others are not as complex. Let's explore some great B2B content marketing examples.
Blog posts
Blog posts are the center of B2B content marketing: businesses read blogs much more often than regular consumers. The most used formats are guides, how-tos, industry trends, and statistics clusters.
One of the most popular B2B content marketing examples is possibly HubSpot: they have long established themselves as knowledge leaders in marketing, and they cover content for both newbies and experienced professionals.
Gated content
We have already mentioned gated content as the best way to grow your mailing list. You can publish white papers, checklists, statistics, case studies, research reports, eBooks, templates with limited access. However, do not be too excited about it: leave some case studies and checklists for free.
Shopify uses gated content very well: they have lots of free resources available without downloading, but they incorporate gated content in internal links and pop-ups.
Video
Videos are one of the most engaging content formats. You can show the company's top management and employees, customer success stories, product overviews, filmed work processes, and announce new features or services with its help.
SurveyMonkey works really well with this type of content and actually goes as a great B2B content marketing example: they have numerous short tutorials and often invite industry leaders to share their experience or thoughts on new trends.
Podcasts
Podcasts are an underrated content format for B2B, but they have so much potential! This is where you can establish yourself as a leader in your industry — you can share your expertise and successful cases or invite top niche professionals.
Neil Patel does a great job attracting lots of leads to his marketing agency through his Marketing School with Meil Patel & Eric Siu Podcast.
Webinars
Webinars are a great way to engage with prospective customers live: you can present new products or services, introduce your employees, invite CEOs to share their expertise, or have a round of Q&As.
Learn how to leverage the power of webinar marketing to significantly boost your sales.
Semrush leverages the power of webinars and regularly holds educational events conducted by top digital marketers to generate leads.
Newsletters
Newsletters are a great communication channel for B2B companies. Mailboxes of your prospects are open almost all the time when they are at work: you can send top-performing articles of the week, new industry trends, announcements of new products and services.
Trello has an exciting newsletter: it is sent from Taco from Trello, a funny dog, and it highlights the best articles of the week.
Conclusion
B2B content marketing is an important part of marketing if you want to win the trust of your clients before they even get to contact you. Make sure to share your expertise and be as useful to them as possible, and you will definitely shine among the other businesses.
Once you've curated a solid B2B content marketing strategy, you need to distribute your content across numerous channels. Consider promoting it via emails using our email service or through a chatbot using our chatbot builder. With good B2B content marketing and the right content distribution, you would soon be enjoying great returns on your investments.