In March, Google launched AMP for Email — a new feature which makes  emails more dynamic and modern. Top email clients such as Outlook.com and Yahoo! Mail don't want to lag behind — both have already announced their readiness to start supporting AMP emails as soon as possible.
For marketers this means that their all-time pipe dream has come true: from now on they are able to send interactive emails. Scrolling image carousels, filling out forms, completing orders, or voting in polls without visiting the website is already a reality.
At SendPulse, we are doing our best to enable your sending AMP emails through our service in the nearest future. Meanwhile, let's delve deeper into what AMP for Email is, how marketers can benefit from it, and check out the examples of AMP emails we've created.
What is AMP for Email
We are used to static HTML emails, where subscribers interact with content through links, while animation is performed through GIFs.
Accelerated Mobile Pages for Email, or AMP for Email, allows senders to create and send interactive emails. This is a new HTML format with a set of components embedded into the email, which enable users to interact with them. For example, users can change their order, fill in the forms, or scroll the carousel right in the inbox. All these options make an AMP email a sort of a mini website.
Another AMP key feature enables users to adjust content in real-time. Say, the offers in the email campaign you've previously sent are no longer valid. You can simply replace those offers with updated ones by changing a bit of code.
This is possible because the information isn't encoded to the email by default but is stored on a server. So you can change the content in dynamic blocks as many times as you want.
What can you do with AMP Emails?
Dynamic content helps marketers build stronger interactions with users. First of all, it reduces the number of users' clicks, which not only saves their time but also improves the conversion rate. Besides, it enables marketers to collect feedback from subscribers with no sweat.
Here's what AMP for Email opens the door for:
scrolling a carousel;
marking items in a cart;
filling in a form or a questionnaire in an email;
taking part in polls right in the inbox;
answering to comments in an email;
linking your email to a calendar and tracking the number of registrations for an event;
opening a product card, choosing and buying the products.
Pinterest and Booking.com are already sending AMP emails to their subscribers. For example, Pinterest subscribers no longer have to proceed to the website to pin the appealing image and unfold the text following it — they can do it right in their inboxes. At the same time, Booking.com allows their subscribers to click through the photos of hotel rooms and apartments and choose the email frequency without their visiting the website.
Is AMP for Email safe?
The above-mentioned beauties of the AMP for Email might seem too good to be safe. The question arises: what if hackers encode a virus into the script of the AMP component and crack or damage the inbox?
In fact, AMP technology allows only fixed JavaScript sources and sets of scripts. Since adding outside JavaScript to emails is impossible, AMP for Email doesn't put your inbox at risk.
AMP email examples
To demonstrate the capabilities of AMP emails, we've chosen a template from the SendPulse library and added AMP components to it.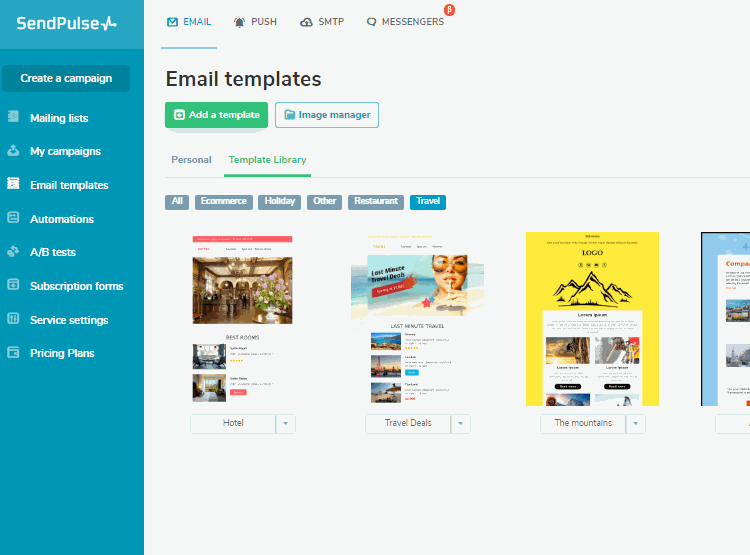 Image carousel in AMP emails
Traditional HTML emails include side arrows to imitate the image slider. This trick gets users into thinking they will scroll the images just in the email; yet in reality, they travel to the website instead. What a bummer!
The AMP-based email, in its turn, allows subscribers to scroll the images right in their inboxes.
Product page in AMP emails
You can zoom an image, choose the preferable dates in the calendar, and reserve a room as in the example below:
Reviews in AMP emails
You can also see several reviews in one email due to their dynamic display.
Drop-down list and request form in AMP emails
Subscribers can submit a request for the appealing products or services through a dynamic form in the email, as shown below: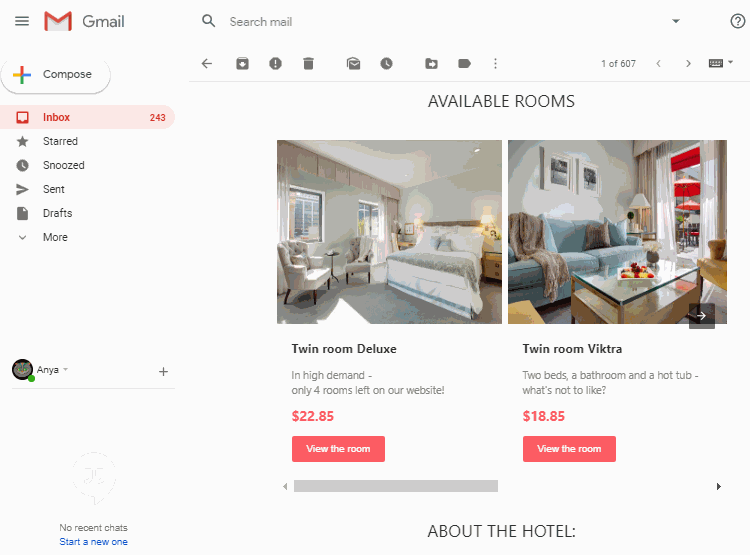 Email clients that support AMP for Email
Gmail temporarily supports AMP emails, but in web versions only. However, the company already plans to support AMP for Email on mobile devices as well.
Outlook is expected to start supporting AMP emails in summer of 2019.
Yahoo! Mail doesn't specify the date but promises to join the AMP coalition "soon."
Registration with various email services differs. Consult developer documentation for more information on the registration process:
Getting started with AMP emails
If you'd like to test AMP email yourself, here is a useful checklist:
Add an AMP element to one of your existing emails.
Make sure you've set SPF, DKIM, and DMARC records for your emails.
Contact the email client — now Google — to whitelist your sender address.
If you set up a server with dynamic content for emails, make sure it responds with valid headers.
Check whether the AMP parts of your email get validated.
Make sure your email contains HTML parts so that the email will be displayed in email clients which do not support AMP for Email.
Find out whether your email service provider is able to send AMP emails.
And a list of useful links as well:
AMP emails with SendPulse
At the initial stage, SendPulse will allow you to add a premade AMP part to your email in the process of your creating the campaign. We will also update the SendPulse API to enable our users to send AMP emails through our service.